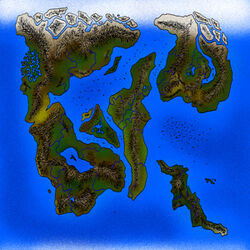 Tlaquanaru is the fourth planet in a seven planet solar system that orbits a yellow dwarf star named Diriu. Tlaquanaru is one of three rocky planets that host indigenous lifeforms (the other two being the 3rd planet, Drigaidari, and the 5th, Dosu Beru). Tlaquanaru has two moons, Dosunari, and Dusanaru. Dosunari, the smaller, or minor moon, orbits at a distance of 200,000 kilometers, while Dusanaru, the larger or major moon, orbits at a distance of 400,000 kilometers.
Tlaquanaru is a rocky planet very similar size, dimensions, and make-up to [1]
Continents
Edit
Geographically, the landmasses of Tlaquanaru are divided up into five major continents, Iapetus, Palao, Khoduhan, Busceterria, and Avigonia. Biogeographically, the supercontinent of Iapetus is divided into two realms, Northern Iapetus and Southern Iapetus. Conversely, Anak Palao, along with most of the other islands within the southern Microthalassa, are considered to be within the Palaoan biogeographical realm.
Ad blocker interference detected!
Wikia is a free-to-use site that makes money from advertising. We have a modified experience for viewers using ad blockers

Wikia is not accessible if you've made further modifications. Remove the custom ad blocker rule(s) and the page will load as expected.